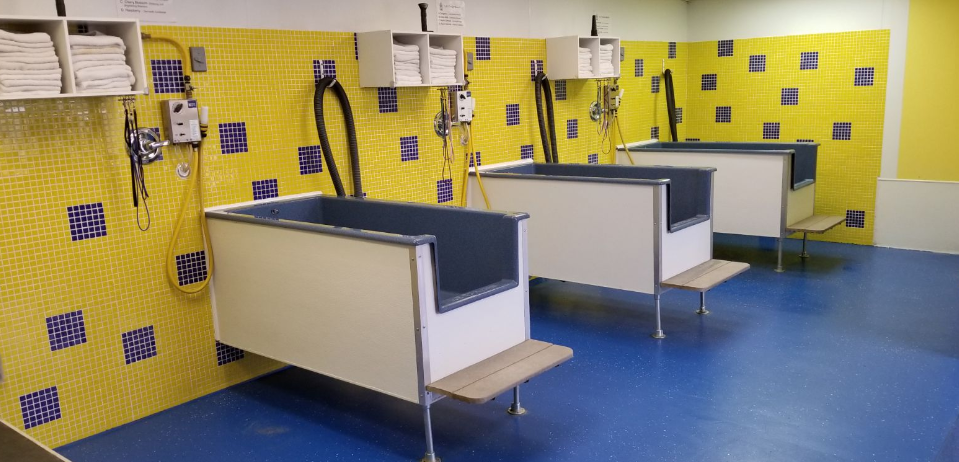 Dog Wash: Self-service OR Drop-Off
We provide dog owners with alternatives to big-box pet grooming shops, and give you OPTIONS in how to get your pup clean and looking their best. Want to wash your dog yourself? We provide EVERYTHING you need to walk in with a dirty dog and leave with a clean, dry one. Don't care to? Drop them off! Your dog will get loving, professional care, and we'll call you when they're ready for you.
– Cologne/Pawfume & Bandana
– Furminator De-shed package
– Specialty Shampoo (Flea, Skunk)
• Long/thick/backed-up coats may require additional brushing fees
• YOUR PUP LOOKS THEIR BEST!
!
– Professional Bathing System
– Combs, Brushes, Deshed Tools
• Also Available (

F

rom Staff):
– Nail Trim
– Teeth Brushing
– Specialty Shampoo
(Flea, Skunk)
– Gland Expression
• LEAVE THE MESS WITH US!
!
COURTESY SERVICES
As a service to the community, Shangri-Paw extends free use of the bathing facilities for civilian service dogs such as blind guide dogs and service dogs (as defined by the ADA) as well as for K-9 police dogs . We also extend a free first self-wash to all recently adopted shelter or rescue dogs as a "thank you" for choosing to give a furry friend a second chance.
Drop-Off
Long/
Double
Coat
Small (1-29 lbs) $15

$28 $38
Medium (30-69 lbs) $17 $30 $40
Large (70-99 lbs) $19 $33 $43
X-Large (100+ lbs) $21 $36 $46
Scented Oil Bath $5 (Drop-Off Only)
Nail Trim $15
S

pa Package $18 (Drop-Off Only)
(Nails & Scented Oil Bath)
Teeth Brushing $5
Furminator De-shed $15 (Drop-Off Only)
Specialty Shampoo $5